What is the differences between Mercedes-Benz AMG® and non-AMG®?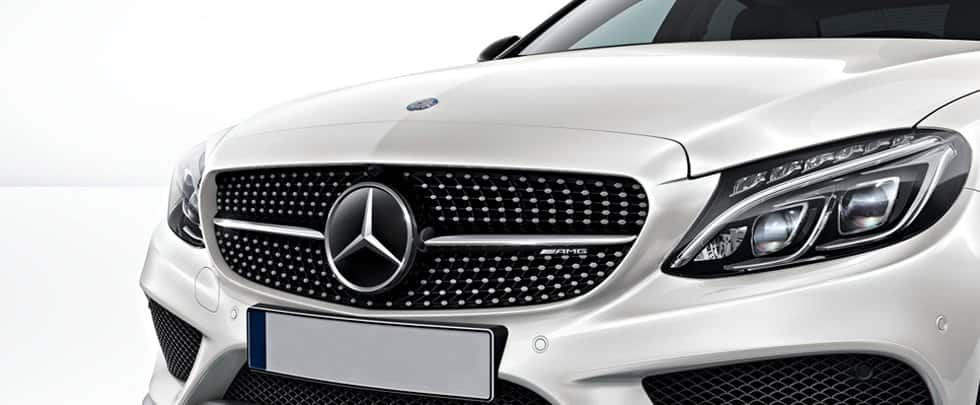 While no Mercedes-Benz creation fails to impress, some set bold new standards for performance and beauty. Chief among these are the vehicles bearing the name AMG®, a widely-recognized mark of excellence. If you're looking for the best that Mercedes-Benz has to offer, it's important to consider what sets AMG® vehicles apart:
Overview of AMG®
AMG® is short for Aufecht, Melcher, and Großaspach, the division of Mercedes-Benz that produces performance vehicles. Named after some of the most important engineers in the company's history, this division creates vehicles with advanced engines, aerodynamic bodies, and high-speed capabilities. Most of the vehicles it produces are similar to standard Mercedes-Benz models, but have higher capabilities.
Whenever Mercedes-Benz launches a new line of vehicles, the AMG® team collaborates heavily with its designers. They pay close attention to the standard car's performance characteristics, and develop a plan to incorporate AMG® engines and other technologies. They take into account longitudinal and lateral dynamics, driver comfort, and exterior aesthetics, making sure that enhancing the horsepower does not undermine any of these aspects. They then alter all features that need to be changed to accommodate the new performance characteristics. The engineers pay particular attention to the drivetrain, axles, brakes, dampers, and body, all of which are essential for both safety and efficiency. This ensures that every element of the vehicle works well with all of the others, providing a smooth, consistent ride at even the highest speeds.

AMG® Aspects
AMG® vehicles have a number of advantages over the traditional versions of each model, including:
Enhanced Engines- With the exception of 6-cylinder models, all of the engines produced by AMG® are handcrafted. These devices have significantly higher horsepower and torque than the ones used in standard vehicles. A C 63 AMG® vehicle, for example, has a brake horsepower of 457 and can accelerate from 0 to 100 kilometers per hour in only 4.2 seconds. By contrast, the standard version of this model has only 186 brake horsepower and takes 9.8 seconds to reach 100 kilometers per hour.
Improved Interiors- Designed to create a sportier aesthetic, AMG® vehicles make heavy use of carbon accents. They also have bucket seats and alcantara.
Exterior Optimization- AMG® vehicles also have sportier exteriors compared to their standard counterparts, notably in that they feature larger rims.
Other Features- AMG® versions have better suspension, enjoy a closer fit between the transmission and the engine, and make more noise than standard versions.
In addition to producing entire vehicles, AMG® also offers upgrades that you can install on standard Mercedes-Benz cars. Known as body kits, these upgrades contain wheels with different alloys and various other accessories that work on vehicles with traditional engines. While they do not radically change the performance characteristics, body kits do contribute to a sporty, streamlined style.