Difference Between Sprinter Cargo Van & Metris Van

When Americans think of Mercedes-Benz, we usually don't think of full-size vans. In Europe and Australia, however, Mercedes minivans are not an unusual sight, and they are slowly becoming more of a norm here. The differences are subtle at first, but they are important. The Sprinter Cargo Van has been a standard workhorse for just over 20 years and the Metris is a little more domesticated. Here's our quick comparison of these utility vans.
Exteriors
Once you get past the similarities, the first major difference you'll notice is the height difference with the Metris standing 31 inches taller than the Sprinter to accommodate passengers. The somewhat more utilitarian Sprinter has a longer wheel base as its more cargo oriented. From the outset, you'll notice the Metris is a bit more stylish on the outside with its more rounded edges and more aesthetically pleasing curves compared to Sprinter's no-nonsense, but boxy appearance.
Interiors
These two are even more different on the inside. The passenger variation of the Sprinter can carry as many as 12 passengers while the Metris is slightly more limited at an 8 passenger capacity and can carry 320 cubic feet of cargo while Metris can manage only 186.
But what the Metric lacks in carrying room it makes up for in quality. It's still quite function oriented but has fabric upholstery and more leg room. The Metris feels more like a car behind the wheel, reinforcing its family-wagon credentials.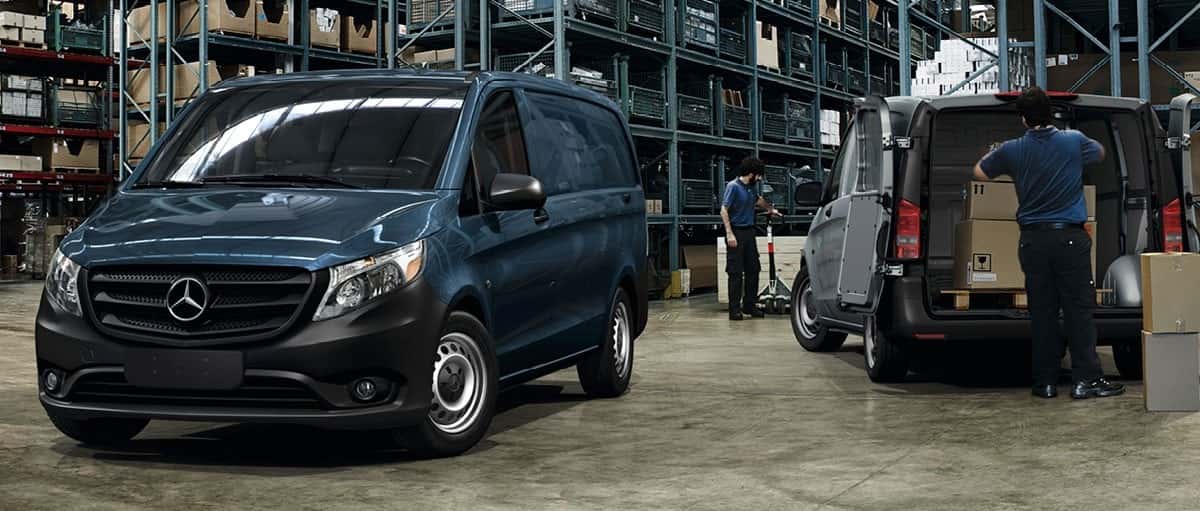 Capabilities
On top of being a bit smoother on the inside, the Metris also offer superior horsepower. Its 2.0-liter engine generates 208 horses where the Sprinter delivers just 161 hp with its 2.1-liter engine.
Both vans have a 7-speed automatic transmission. But Sprinter buyers can upgrade it to a 188 hp 3.0-liter engine which comes with a 5-speed automatic. This upgrade comes with the choice of either rear wheel drive or all-wheel drive.
The Metris is notably peppier on the road- a plus when you're carrying impatient passengers. The Sprinter Cargo Van, conversely, is clearly better suited to fleet service with its ability to carry 1000 pounds more than the Metris.
Tech. & Features
These otherwise humble vehicles offer a surprising list of features. Both come with forward collision assist, blind spot monitoring, automatic wipers, and lane-keep assist. A park-assist feature is available on both, as are cruise control, heated seats, and a backup camera.
Performance
The smaller cabin, lower profile, and superior power of the Metris make it slightly more enthusiastic on the road than the Sprinter. The Metris is a common airport rental car and the reason it clear- it's a more satisfying ride while being just as easy to clean up with the predominance of plastic interior surfaces. The Sprinter does not take to turns half as well as the Metris, but that's not what you're looking for when you're carrying cargo.
Safety
These vans have yet to be crash tested, but the long list of safety features is a good sign. Both come with traction control and anti-lock brakes. Optional curtain airbags and lane/park-assist features and sensors make these two much more credible in terms of safety than just about any other cargo van on the market.