Mercedes-Benz Safety Features

The class-leading innovation of Mercedes-Benz has a long history, with safety features and technology playing a key role in the company's inventions. Today, Mercedes-Benz drivers get to take advantage of unique features you won't find among the competition, not even with the luxury brands.
ATTENTION ASSIST®
The available ATTENTION ASSIST® system is designed to ensure that you remain aware of your surroundings while driving your Mercedes-Benz and don't doze off or space out while behind the wheel. Right when you enter your car, the system will make note of more than 70 different parameters to understand your driving style. It then uses this information to determine when you make steering corrections that may indicate drowsiness. By combining this information with other factors, like road smoothness and crosswinds, the system will determine whether you are fatigued. If so, it will sound an alert and suggest you take a break from driving, preventing accidents.

PRE-SAFE®
The PRE-SAFE® system is a Mercedes-Benz exclusive designed to sense a collision before it happens, minimizing the damage it does to you, your family, and your vehicle. This system uses sensors throughout the vehicle, including those already helping you back up or perform other functions, to detect if a collision is likely based on extreme skidding and other similar factors. If PRE-SAFE® senses an imminent accident, it will adjust the head restraints and tighten the seatbelts in front and close windows to reduce injury.
DISTRONIC PLUS® with PRE-SAFE® Brake
The DISTRONIC PLUS® system works with the PRE-SAFE® brake to give you every chance of avoiding potential collisions. The advanced radar sensors in DISTRONIC PLUS® scan traffic to ensure it isn't slowing or stopping. The PRE-SAFE® brake works depending on the sensor's information. It can give you as the driver an audible alert, initiate the brakes up to 40 percent of their power, and start the PRE-SAFE® system. As soon as you hit the brakes, 100 percent pressure will be applied, and if you don't respond to the alerts, the system can even brake fully by itself.
Night View Assist® PLUS
This innovative feature lets you effectively see in the dark when behind the wheel of an equipped Mercedes-Benz. It uses a special camera and invisible infrared beams to create a supplemental image of the dark area in front of you in real time. The system is able to sense cold objects, something that similar thermal systems lack. It can also point out pedestrians or even shine your headlamps in their direction to ensure they are seen.

Adaptive Highbeam Assist
The Adaptive Highbeam Assist is a safety feature that takes highbeams one step further. The system has its own camera, which scans the road for headlights from other vehicles. It then calculates the position of these vehicles and will vary your headlamps to create the maximum amount of illumination for you and least glare for the other driver, picking from an infinite number of variations.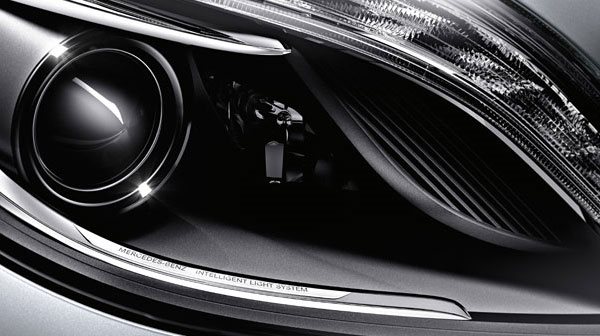 Active Lane Keeping Assist and Blind Spot Assist
Mercedes-Benz may not be the only manufacturer offering Active Blind Spot Assist or Active Lane Keeping Assist, but its vehicles are available with the most advanced version of these features. Lane Keeping Assist uses a camera to pay attention to pavement markings. If you start to leave your lane, it will vibrate your steering wheel to let you know. Blind Spot Assist uses rear bumper radar sensors to detect when a car is next to yours and lets you know with a red icon, switching to an alert if you indicate you want to change lanes. These two systems also work with advanced active technology, which will apply brakes to help you get back into the right lane if you are drifting or don't notice a vehicle in your blind spot.
If you would like to learn more about Mercedes-Benz safety features contact our dealership today. We will be happy to arrange a test drive and demonstration of all of our technology and safety features.