Spotlight on Mercedes-Benz Child Safety Features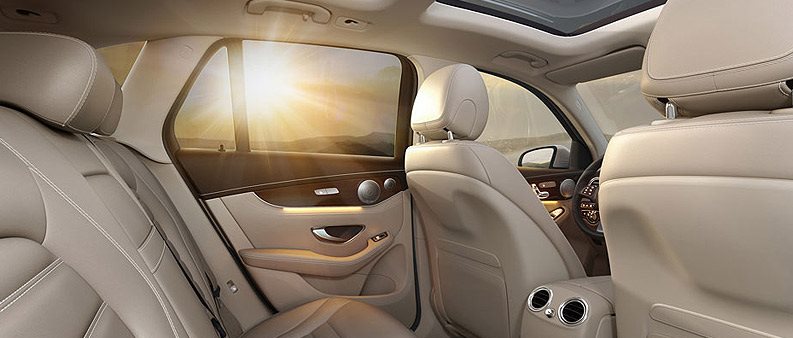 Child safety features are one of the most important concerns for parents buying motor vehicles. Mercedes-Benz understands this, so it's developed numerous safety innovations available as standard or as add-ons in many of its cars. Smart features like these are helping keep the next generation of Mercedes-Benz fans safe.
Mercedes-Benz Child Safety Seats Transport Young Children Safely
Mercedes-Benz has also created infant and child safety seats made to the exact standards as its vehicles. Each is specially designed to consider the physical characteristics of the age group it was created for. When Mercedes-Benz child seats are installed in the front passenger seat, BabySmart Technology instantly deactivates the front passenger air bags known to present risks to child safety. Despite this innovative technology, Mercedes-Benz reminds parents that children should ride in the back seat, where accident statistics suggest they're much safer, whenever possible.
Expanded polystyrene impact foam insets in critical areas help to maximize child comfort and safety. All Mercedes-Benz have been crash-tested to ensure they're durable and safe on impact. They also meet or exceed U.S. Department of Transportation standards, and they can be used in a range of vehicles, including those without Lower Anchors and Tethers for Children (LATCH) attachment points.
High-quality LATCH Systems Make it Easier to Install Car Seats
While you don't need LATCH attachment points to use a Mercedes-Benz child safety seat, these fixtures make the job much easier. Studies show child restraints installed with LATCH are more likely to be correctly installed than those secured with ordinary vehicle seat belts.
According to the Insurance Institute for Highway Safety (IIHS), more than half of all vehicles have child restraint installation hardware that rated poor or marginal. It deemed the LATCH systems in the Mercedes-Benz C-Class and Mercedes-Benz E-Class as acceptable, while the Mercedes-Benz GL-Class' system earned the highest rating of "good." To receive positive IIHS ratings, the anchors must be well positioned and easy to move around. Users should also be able to attach their car seats without using excessive force.
Child Safety Locks Keep Children in the Car
Children are naturally curious and quick to learn, so it's only a matter of time before the angels sitting quietly in your back seat start to explore their surroundings. All too quickly, a child can open the door of a moving vehicle and topple out. Mercedes-Benz's child safety locks on rear doors can help prevent a potential tragedy. Once activated, the rear doors cannot be opened from the inside. If your child wants out, he or she will need to wait patiently for you to open the door from the outside.
Sensor Systems Help Reduce Accidents
While many of Mercedes Benz's modern safety systems aren't designed specifically with children in mind, any mechanisms that reduce the risk of accidents can help keep your children safer. The value of proven technologies such as anti-lock brakes and Electronic Stability Control can't be underestimated. Mercedes-Benz has also recently released new safety technologies, including Attention Assist, which can help sleep-deprived parents recognize when they're too drowsy to continue their journey.
When you choose Mercedes-Benz, you can feel confident you're choosing a vehicle made to keep you and your children safe.